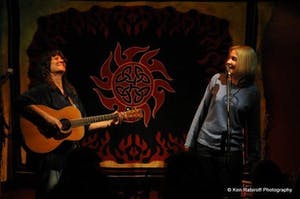 Freight at Home Streaming Concerts
Nina Gerber & Chris Webster
Saturday, January 30, 2021
7 PM
Sliding Scale, starting at $5 


8 Show Pass Includes This Show
CHRIS WEBSTER is a soul singer.
Her voice conveys a passion that connects with the longings of her audience. She expresses sometimes-troubled feelings that everyone understands.
But Webster goes beyond pain to hope; her voice can be a compassionate balm to the troubled soul. Performing live, her intensity brings a hush to every room she plays. Those who see her hear it: Chris Webster is the real deal, a singer who transcends genre.
Webster's broad experience in disparate genres is succinctly reflected in the recent story-so-far compilation My Name is Christine, which contains selected tracks from her albums with eclectic NorCal band Mumbo Gumbo, as well as tracks from her first two solo albums and gems from the acclaimed bluegrass disc she recorded with her opera-singing sister Cassie Webster and ace guitarist Scott Nygaard, Ten Thousand Miles.
Something in the Water finds Webster applying her supple, versatile voice to all manner of material, and features a guest appearance by Americana phenom Jackie Greene, who wrote "Bright Star" for her, and who playfully duets with her on the '60s soul classic "I'm Your Puppet." Rounding out the album are a playful take on Johnny Cash's "Get Rhythm," Curtis Mayfield's "People Get Ready," and her version of the standard "Bye Bye Blackbird," a collaboration with Darol Anger and Scott Nygaard, with whom she occasionally performs.
Chris Webster is a soul singer beyond genre. In the course of recording over 20 albums on her own and with others, she has drawn equally from classic R&B thumpers and gospel-grass prayers, from rockabilly rave-ups and singer/songwriter confessions. Webster's work is rooted in the classic American tension between a yearning for transcendence and a lusty connection to the here-and-now.
She's also funny. Though in performance she hangs back, all sly allure – when you're in it for the long haul, you learn to pace yourself – she's got a cool, understated comic timing. Chris Webster has traveled far and deep in her musical career; she has built a body of work to be reckoned with, and has earned the notice of numerous established artists. She was recruited by Ray Benson of Asleep at the Wheel to join the Grammy-winning country swing band, and her song, "Shake On It," was recorded by The Band. Chris has sung back up vocals for several artists, including the legendary Ferron, and long-time collaborator, Jennifer Berezan. In 2006 Chris was awarded the Gibson Guitar New Musician Award for best new singer-songwriter.
Listen to Chris Webster and discover an expansive new sense of soul.
After carving a career out of what some might call the shadows, guitarist Nina Gerber is at last beginning to dare the light. Her first album as a leader, Not Before Noon, follows two decades which brought her to prominence without ever placing her name on the front of an album cover. Since her accompaniment of Kate Wolf first earned her recognition, her acute skills as performer, producer and arranger have continued to deepen. Her contributions to acoustic music have earned her a following as loyal as for the numerous high talents she has accompanied – proving the shadows equal to the spotlight in the creation of honest, powerful, and beautiful music.
Nina has a unique ability to completely free herself within an eclectic range of styles. Presented with folk, country, bluegrass, rock, or blues, she is able to fall into leads which have rare reverence for the true feeling of a song, always emphasizing taste over technical display. She seeks to express through her hands, rather than gain attention, and it is this integrity which makes her expressions worth intent listening.
That kind of intent listening will reveal Nina's melodic touch in more places than many realize. Nina has performed and/or recorded with: Karla Bonoff, Peter Rowan, Nanci Griffith, Greg Brown, Lucy Kaplansky, Mollie O'Brien, Dave Alvin, Rosalie Sorrels, Laurie Lewis, Terry Garthwaite, and many others. Her soulful enhancement of their music easily explains why several return the favor by appearing on Not Before Noon and Good Music with Good People.
That qualities of honest heart inform Nina's music should be of no surprise, given Kate Wolf's initial influence and inspiration. It was Kate's heart and honesty which inspired Nina to realize music as her calling. After seeing Kate perform in 1975 at a pizza parlor in Sebastopol, California – Nina's home town – Nina dared to set working with Kate as a specific goal, and by 1978, the goal was accomplished. Nina came to be an essential part of Kate's music, as she grew into being her accompanist and close musical companion. It was a partnership which lasted until Kate's passing in 1986, and in its effect, has lasted long beyond that. It's an achievement which is a testament to the power of clear desire and single-minded purpose; it's also evidence of the daring Nina has shown throughout her career since, whether through seeking out the challenging rush of unrehearsed performances, driving her van alone cross-country (1985) to explore the music scenes of Austin and Nashville, taking a sabbatical to study at the Guitar Institute of Technology in Hollywood, or just keeping on as a musician in a country where artistic integrity rarely pays.
Whether it's on her own "solo" CDs – collaborations with many of the folk world's finest – or producing, arranging, or performing with countless others, Nina continues to prove with her guitar that some of the truest and most emotional communication requires no words. Still, when combined with the voice of another musician of heart, the result is affecting in an unforgettable way.