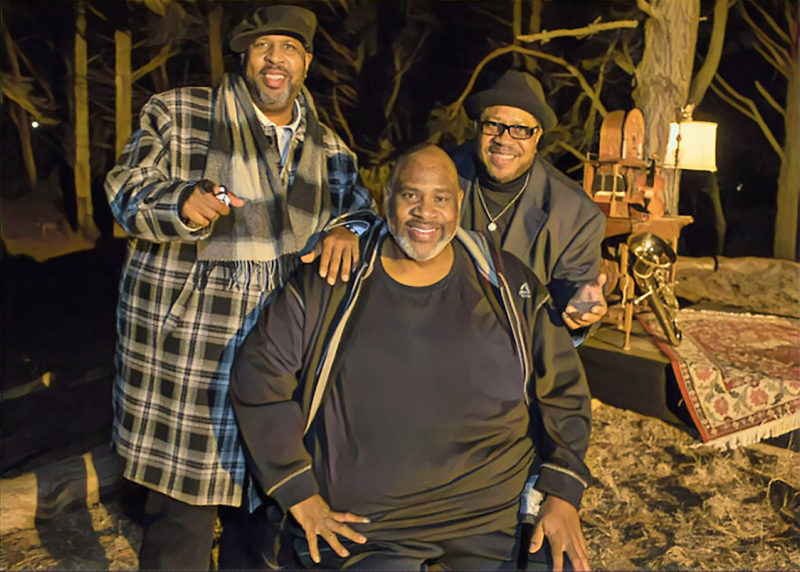 Freight at Home – Streaming Concerts
Sons of The Soul Revivers
Saturday, February 20, 2021
7 PM
Sliding scale, starting at $10

Gospel music has a fundamental heart magic, a soulful joy in the positive things in life that summons a response from believers and nonbelievers alike. That joy is embodied in the music of the Sons of the Soul Revivers (Walter Jr., James, and Dwayne Morgan), whose new album on the Little Village Foundation label, out June 19, 2020, is called Songs We'll Always Sing – A Tribute To The Pilgrim Jubilees.
The Sons have deep roots, reaching back to the Silver Four, their father's first group back in Pastoria, Arkansas. Migrating to the Bay Area in the early fifties, Walter Sr. started a group called the True Tones, and then in the sixties, the Soul Revivers, which sang exclusively in the church. On July 4th, 1970, at the venerable age of nine, Walter Jr. gathered up his brother Sidney and some cousins and began his own gospel group. For lack of a better name, they called themselves the Sons of the Soul Revivers, and never found a way to improve on the tag.
Various young Morgans started taking music lessons over in Berkeley—Walter on guitar, brother Sidney on bass, sister Cheryl on piano, and James on drums. But James had recently been taken to a concert at Oakland Auditorium that featured The Violinaires, and young as he was, he came out of it certain that he wanted to be a quartet singer. The older kids heard him trying to mimic the Violinaires' lead voice, Robert Blair, and as James recalled it, "They heard me back there howling and screaming on the drums. What they did then, they put me in the group officially, they took the drumsticks out of my hands, and put the microphone in my hands, and the rest is history."
Aged six or seven, he debuted as lead vocalist at the local playground with a song by the Swan Silvertones, "We're Going to Have a Good Time," and, as James put it, "the people seemed to like it. I did my little scream and the people hollered back at me, and I said to myself 'OK, I'm on to something here.' You know what, it's a feeling. I had it then and I still have it now, that when you get on the stage to sing, something exciting, something spiritual, something magical, however you want to describe it, it's going to be nothing but positive good vibes, and it's going to flow from the stage out to the audience, and my prayer is that everybody will be impacted by that in some kind of way."
The Sons performed in churches—the family attended Friendship Baptist Church in South San Francisco—then met a group from Oakland and started crossing the bridge. They got very good, and the audience noticed. As Walter remembered it, "One day, at Lafayette Elementary in Oakland, I guess we were early teenagers. I can remember we opened up with a number called "I Made a Vow." And at that particular time, we had pretty good harmony, but on that stage, the microphones were especially clear. And when the background came in with our harmony, it was just right, and the crowd went crazy."
Show followed show, some more spectacular than others. Dwayne particularly recalled a big one at Oakland Auditorium that included the Mighty Clouds of Joy, the Canton Spirituals, the Blind Boys of Mississippi, Spencer Taylor and the Highway QC's, With a lineup like that, it was not surprising that the place was packed. "We got up there and we did pretty well. There was like a dance floor in front and my brother James was down there and people were coming up and shaking his hand, and it was just something."
Still in their teens, they put out a single, "I'll Be Satisfied," and an original by Walter Jr., "When I Get Home," a version of which is on this album. They recorded their first album, It Should Have Been Me, in the Bayview District of San Francisco at the studio of Melvin Seals (well-known in the Bay Area for his work with Elvin Bishop and then Jerry Garcia). Their second album, Help Me Lift His Holy Name., was recorded live at Union Baptist Church, Vallejo. I'm a New Creature, also live, followed.
A friend of the group's put a song called "Pilgrim and Stranger" on YouTube, and Jim Pugh of the nonprofit record company Little Village Foundation was all ears. Former Huey Lewis & the News manager Bob Brown was another Sons fan, and he suggested recording the quartet. Jim signed them up and they produced a live album at Bob's club in West Marin, the Rancho Nicasio, and then more recently the Sons went into the studio for Songs We'll Always Sing – A Tribute to The Pilgrim Jubilees.
Said James, "We definitely used the Pilgrim Jubilees as a blueprint for how the traditional gospel quartet sound should be. We got a chance to see those guys in 1977, and long story short, they blew us away. When they got on the stage, they sang. They didn't have fancy gimmicks, they didn't have a standout tenor singer where you can showcase his vocals, like Claude Jeters (Swan Silvertones), they were just a good, old-fashioned solid group who could really sing. And I said to myself, 'that's the way traditional gospel quartet should be.' And with this effort, we just want them to know that we love them, that we appreciate them, and that we will not allow the traditional sound of gospel quartet to die. As long as we're living, we're going to keep it going."
Songs We'll Always Sing offers rocket-propelled rhythms, the kind of close harmony singing that only brothers who've practiced for decades can achieve, and the joyful bounce that Duke Ellington wrote about in "It Don't Mean a Thing (If It Ain't Got That Swing"). The rhythm section of Ronnie Smith on drums and Daquantae Johnson is totally in the pocket, and Walter Jr.'s guitar is a delight, fully honoring his favorite early role model, Tito Jackson (just listen to "I Want You Back").
Both Dwayne and James picked "It Ain't Safe," from the Jubilees' Don't Let Him Down release, as their favorite on this album. "We have yet to come to a common ground on how we can get along," said James. "I'm hoping and praying that this song will resonate with people in general. The lyric goes, 'We should treat sin just like dirt, and with the broom of faith we should sweep it aside.' I love that. It's the only way we're going to survive. 'Do unto others as you have them do to you and I declare that this is all we have to do. It ain't safe'…There is still hope, you know what I mean? There are still people out there that you can get along with. They may not look like you, they may not come from the same background, but at the end of the day, all of us are going the same way…"
Let's give Walter Jr. the last words: "We're giving honor to a group that we grew up listening to, and unfortunately, a great portion of the group is deceased now. And sometimes, gospel groups can get lost in the shuffle, forgotten about, and we decided—they have so many wonderful songs that should be carried to the next generation. So we talked with them and got permission, and so we recorded their hits. We want to spread a good message to a lost world so that people can feel better. Tommy Castro said the other day, he said he wasn't super-religious, but that there was something about gospel music that moves you, even to tears sometimes, and that's just the feeling you get. There's something in gospel that soothes peoples' minds."
Music heals. Listen with an open heart and it will indeed soothe your mind and soul.