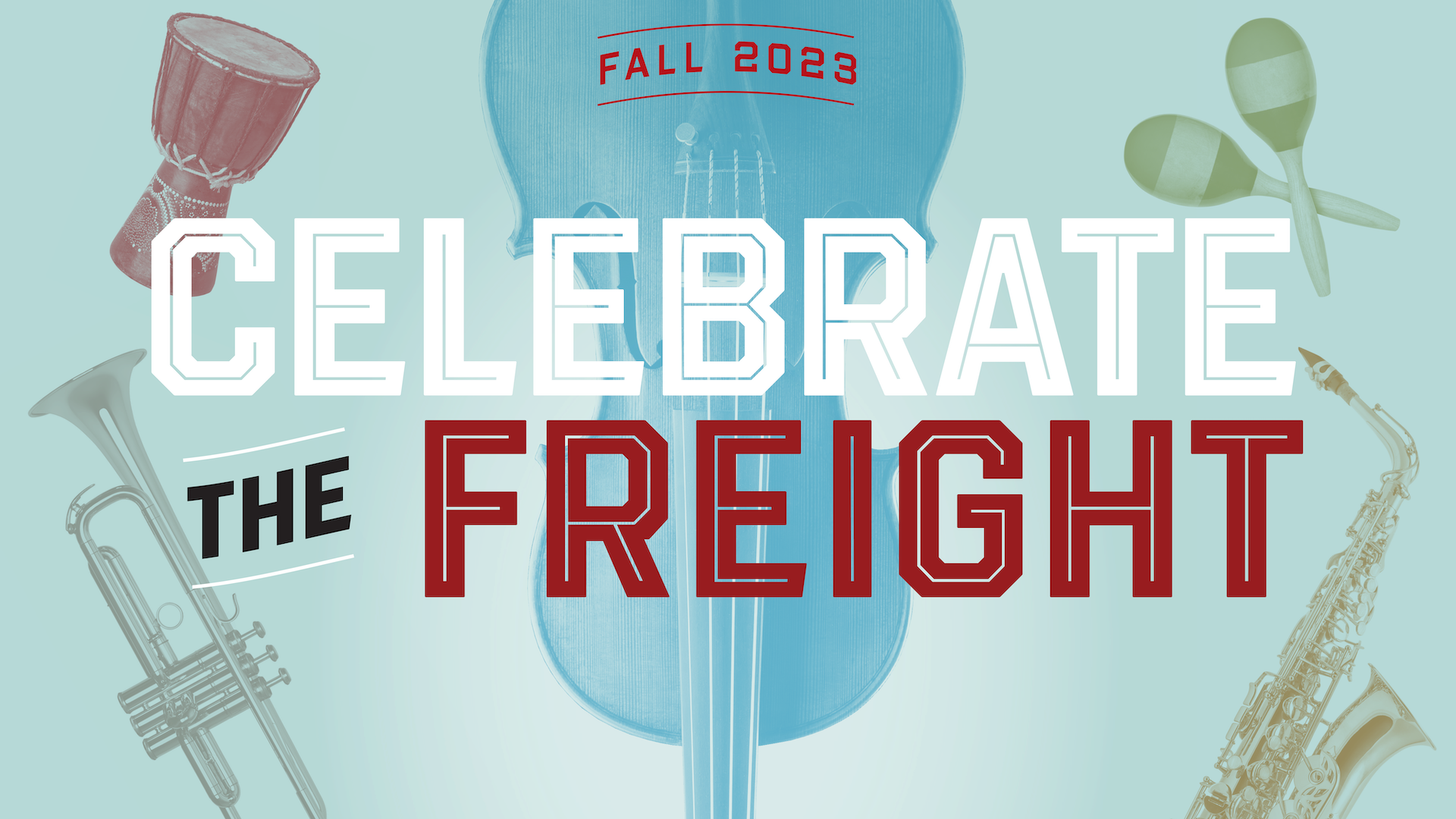 For the months of September and October we are inviting our community to take an active part in Celebrate the Freight: a two-month extravaganza highlighting all of the things we love and care about at the Freight & Salvage.
WE BELIEVE Music Builds Community
The Freight strives to be a welcoming home for musicians and trailblazers at all stages of renown and champion the best of traditional and roots music from around the world.
Whether you attend a show, enroll in a class, or make a contribution to the Freight, you are a vital member of our community and help make all the work we do possible.

For September and October, we invite you Celebrate the Freight
and explore our work in a few different ways:
A dynamic line-up of musicians will appear on our stage nearly every night of the two month celebration. We invite you to explore these musical offerings in September and October with a time-limited Celebrate the Freight Flex Pass, where you'll save $4 off the General Admission price per ticket!

Join us for the return of Freight Fest!, a free one-day outdoor music festival on Saturday, October 14th from 10:30am-6pm. The lineup includes big-name, internationally touring acts alongside artists from the Bay Area's vibrant musical community. Lyrics Born, Alphabet Rockers, QUITAPENAS, Orchestra Gold, Anthony Paule Soul Orchestra, OctoPretzel, and more! We'll also have food trucks, beer & wine, and a variety of activities for the kids.

Register now for our Fall I classes (starting Sunday, September 10, 2023). Register for Fall II classes (starting in November) during September and October and get an additional discount!
Deepen your understanding of tradition in one of our many workshops offered in September and October, including the Berkeley Old Time Music Convention workshops, "Jazz Guitar – The Great American Songbook with Terrence Brewer," "Gaelic Song with Julie Fowlis," and "Piano Americana ONLINE with Sam Reider."
Jams are a great environment to hone your playing chops in sessions covering Bluegrass, Old Time, Swing, Hip-Hop Cypher, and more. For the months of September & October jams are FREE to all community members thanks to our Celebrate the Freight sponsors. Players of all skill-levels and ages are welcome!

Freight & Salvage has been a home for traditional musicians from around the world for decades, and we are thrilled to see our community grow each year from innovative programming and education efforts that seek to welcome all who align with our vision for a more beautiful and just society. Watch these videos to learn more about who we are and the future we hope to see at the Freight!   

We are grateful to our Celebrate the Freight sponsors whose special contributions help underwrite the extraordinary offerings during this special, two-month celebration:
LEAD SPONSOR
Ed Littlefield & Mary Wallace

SPONSORS
Mary Ford and Rob Lewis
Anonymous
Lora Staley Blessing
Roberta Brooks and Billy McDonald
Gini Brown and Dave Weiland
Steven and Karin Chase
Diane Lee Davenport
Bill and Carol Haggerty
Lisa Honig and Dale Schroedel
Clyde Leland and Lorraine Lerman
Russ Pollock and Laurie Campbell
Celia Ramsay
Henry Reichman and Susan Hutcher
Marci Rubin
Tina Rutsch and David Donovan
Elizabeth Seja Min
Stephen and Susan Shortell
Renee Hayes
photos by: Dave Weiland, Dave Padilla, Freight Staff