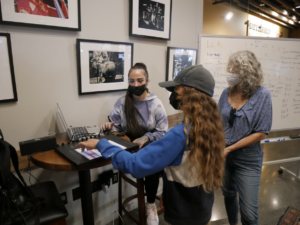 EDUCATION DEPARTMENT PURPOSE STATEMENT
The purpose of the Freight & Salvage Education Department is to deliver outstanding, hands-on programming which explores traditional music from around the world, celebrates the power of community music-making, and illuminates musical connections between people and cultures.
Everything we do at the Freight & Salvage is rooted in the folk tradition. In the Education Department, we intentionally create programming which explores culture and history as well as technique and repertoire, in an effort to honor and uplift the ways in which music has helped forge and sustain communities over millennia. 
Our evening classes for adults, which launched in tandem with the opening of our building at 2020 Addison Street, have served thousands of students. Our robust workshop offerings help students dig deep into specific musical skill sets, and our online lectures and pre-show talks offer opportunities for music lovers  to learn more about the people and cultural values behind some of their favorite sounds. Our grassroots choir, the Freight Singers Community Chorus, meets for two sessions every year and culminates with concerts onsite at the Freight. Our long-running jams in various genres continue to be part of the Bay Area's vibrant roots music scene.
The Freight's flagship middle school music education program PLAYING WITH TRADITION and its primary initiative Hip-Hop is Folk Music is designed to illuminate connections between hip-hop and related folk music forms, reclaim lost or hidden narratives, expand the ears of young musicians, and inspire exploration of music traditions from earlier times and various cultures. The 4th grade arm of Playing with Tradition is Golden State of Song, an arts integration program which aims to enhance and enrich California history studies through songs from a multiplicity of traditions. We are grateful for our close relationship with the VAPA Department of Berkeley Unified School District and other school partners.
As a whole, our education programming includes everything from folk and jazz to hip-hop, South Indian classical music, and beyond. We believe that working with a multiplicity of traditions gives us all an opportunity to engage with each other directly and build community through music.
The Freight's education programs and jams are led by teaching artists with decades of classroom and performing experience, and are managed by seasoned musicians/arts education professionals, Director of Education & Community Engagement PC Muñoz and Education Associate Leah Wollenberg.