The generosity of people like you helps keep traditional music thriving at the Freight & Salvage. Ticket sales and class fees cover only a portion of our costs. Donations and Friends of the Freight memberships keep the Freight & Salvage going strong. The Freight & Salvage is a non profit 501c3 organization (Federal Tax ID: 94-2887073). Our formal name is the "Berkeley Society for the Preservation of Traditional Music", and we conduct business as the "Freight & Salvage". Donation checks may be made payable to either entity. All donations are 100% tax deductible.
Other Ways to Give
Pay by cash, check, or credit card by using our printable and mailable form [PDF]
The Freight can also accept a gift of appreciated securities! Your stock gift is tax-deductible at its full mean value on the day you transfer it to the Freight account. Our account, under our legal name of Berkeley Society for the Preservation of Traditional Music, Inc., is Charles Schwab, #1103-7557, DTC #0164. Please contact Rebecca Scott at RScott@FreightandSalvage.org to let us know which stock to look for, and that you are the donor.
Friend of the Freight
With your gift of $50 or more, you'll enjoy a range of donor benefits including priority notice of shows, ticket discounts, VIP concerts, and more. Membership supports the presentation of traditional music from an ever-expanding group of musicians whose eclectic sounds make the Freight home for a community of music lovers as energetic and as diverse as the Bay Area itself.
Music Makers
The Freight's premier donor group provides vital support that makes our celebrated programs possible. With your gift of $2,500 or more, you'll enjoy a range of special opportunities to be closer to the music, including reserved seats.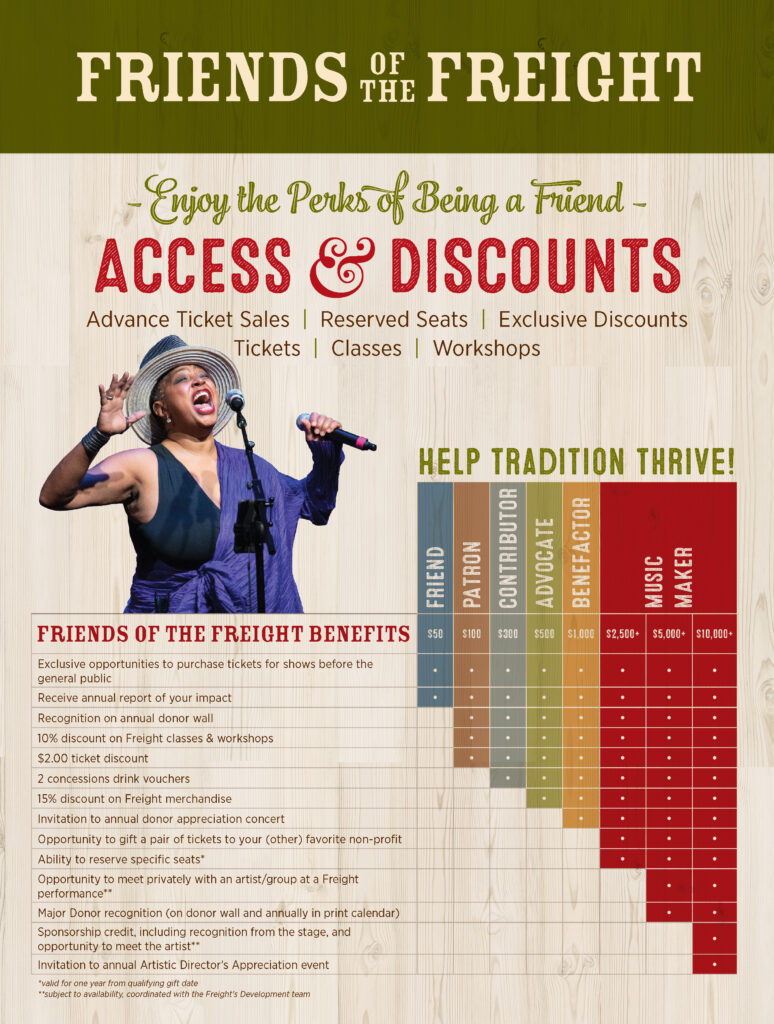 Monthly Gifts
Annual gifts of $300 or more may be paid over 12 months. Click the 'Pledge' button on the donation form. After your initial payment, your credit card will be automatically charged at the beginning of each month for the following 11 months. For tax purposes, you'll receive an acknowledgment after your first and last payments.
Questions?
Please contact our development department at (510) 644-2020 ext. 130 or email development@freightandsalvage.org, for more information.
Freight & Salvage recognizes that among the ways that we keep the trust of our members and donors is by demonstrating mutuality and respect. In accord with that principle, we subscribe to the practices enumerated in the Donor Bill of Rights, created by leading professional fundraising associations and reproduced here with the permission of AFP.