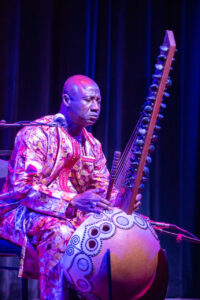 The Freight presents
The Photography of James Knox
As a nonprofit community arts organization dedicated to promoting public awareness and understanding of traditional music from around the world, Freight & Salvage is proud to present its first ever exhibition by Bay Area photographer James Knox. The exhibit, which opened on July 13th, is a special commission by Freight and Salvage documenting several concerts after we reopened last fall, since the pandemic shut it down. This is an up-close-and-personal look at a collection of photos documenting concerts at the Freight from September to December 2021.
James Knox has been photographing the Bay Area jazz scene for over 20 years. His photographs have been featured in SF Chronicle, Wall Street Journal, Sotheby's Realty, Visiting Oakland Tourist Guide and album covers/websites for local and national artists. He is contributing photographer for Cuisine Noir Magazine, SFJAZZ, California Jazz Conservatory, Monterey Jazz Festival and San Jose Jazz Festival where he was an official staff photographer for the 2015 Summer Fest. He was also a staff photographer for 2019 Monterey Jazz Festival. His photo of Kurt Elling was published in SFJAZZ: The First 30 Years: Setting the Stage.
His photography has been exhibited at the San Francisco Main Public Library, California Jazz Conservatory, Dr. Martin Luther King, Jr. Library for Jazz Appreciation Month (San Jose), San Leandro Public Library, Berkeley Public Library, Cigar Factory Lofts, The Jazz Heritage Center SF, The Sound Room, Joyce Gordon Gallery, The Art of the African Diaspora, Richmond Art Center, American Steel Studios, and Warehouse 416.